The directions for getting off the ship were a bit unclear, and as far as I could see, we would be told to disembark anytime between 7:15 and 9:45, so I got up nice and early to make sure we were ready to go. I had my last breakfast at the Windjammer, and realized we would probably be one of the last groups off (light blue 5) as we didn't have any pressing travel plans like a flight etc.
We were called off around 9:30, one of the last as we had guessed. We made it through customs rather quickly, although the girl who checked us in to Canada didn't believe we didn't have any booze. We were planning on taking a cab to our hotel in downtown Vancouver, but the line for taxis was easily 200 people long. I saw a little kiosk advertising transportation services, so I left Adam in line and inquired about a limo. For 32 CND and 15 minute wait, we could take a limo to our hotel! Done and done. We paid and got our voucher, and were directed to the limo tent just outside.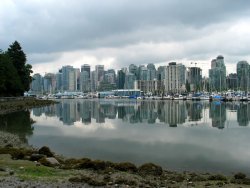 After making it there, and having the attendant call the limo from the limo waiting area, we made ourselves comfortable in the chairs they provided. We had a nice view of the cab line, and were even more pleased with our quick decision, as a cab came every 3-4 minutes, and the line was not moving very quickly at all. While we waited we were also entertained by three very upset, very unpleasant people. One husband and wife were giving the limo attendant a really hard time because the limo they had booked was late. How much it was late kept changing, progressively from 30 minutes to 2 hours. I felt so bad for the poor kid, because it seemed it was the limo drivers fault he was late, as he didn't have the proper ID or paperwork or something. I can understand why they were mad, as they had a plane to catch, but they were being so lame about the whole thing. Another older woman was waiting in line at the payphone near where we were. Although the guy on the phone was taking an inordinate amount of time (he said he was on hold) the woman waiting kept bothering him to get off, saying how rude it was, etc. She also went as far as to get the traffic officer of all people to try and intervene. I guess it didn't occur to her to walk 30 feet back inside where there were plenty of payphones.
Finally our limo showed up and brought us to the Pacific Palisades hotel in downtown Vancouver. It was still early in the day (about 10:30) when we got there, so our room was not ready, but they were able to take our luggage while we toured. The concierge gave us some information about the Vancouver trolley that had a stop about a block from the hotel. One would be coming in just a few minutes, and it seemed like a good way to see the city, so off we went. The ticket was 29 CND a person, and allowed you to get on and off the trolley at each of the 20+ stops. There were only few that we wanted to get off at.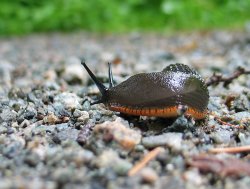 The first few stops were in Stanley Park, the third largest city park in North America. We got off at the Totem Pole stop, where replicas of about 9 totem poles stand, with a nice view of the harbor of Vancouver. From there we walked around the edge of the park, along the water, heading through a path to find the Rose Garden, which was the final stop the trolleys make in the park (they come every half hour.) We found the Rose Garden, but could not find the trolley stop anywhere, so we walked back through the park to where we knew there was a stop. We had just missed one, but we had ample time to enjoy the antics of a raccoon and a raven. The trolley eventually came, and we rode it back around the park to the trolley stop by the Rose Garden, which was 10 feet from where we were earlier. We then continued out to Granville Island.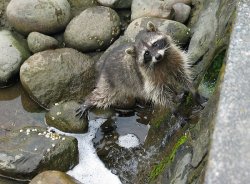 Granville Island is a piece of land that has become a huge tourist attraction, although it's very popular with the locals, too. There are a number of art studios and galleries, plus funky little shops and fishing operations. There is also a large public market with a ton of different little stands for fish, baked goods, teas, etc. We ate at a little restaurant called The Cat's Meow. It was cute, and we each had a burger that was pretty good and inexpensive. We walked around for a bit, grabbing a baked good for the rest of the trolley ride.
We had to wait a bit for the trolley, and there was a large crowd gathered, so we were a bit worried about getting on it. Luckily half of the people were waiting for the double decker bus tour, and two trolleys came, so there was plenty of room. The tour continued around Vancouver, including the arena where the Vancouver Canucks would play if there was an NHL season this year. We drove through China Town, the largest in North America behind the one in San Francisco. It was bustling, but in a really sketchy area. We saw the underbelly of Vancouver as we made our way back to the waterfront, including prostitutes and someone preparing to smoke crack, right there on the street. It was nuts.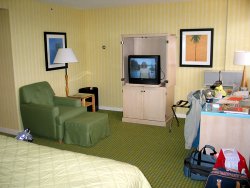 The tour wrapped around the coast of Vancouver and we eventually made it back to our first stop, by the hotel. I was pretty tired, so I wanted a nap before dinner. We made a reservation at a trendy Italian restaurant just down the street, but I had some time, so I napped. We walked about 2 blocks to our dinner at Cin Cin (chin chin-something along the lines of buon appetitio.) Dinner was quite good (though Adam was less then thrilled.) We started by splitting a wonderful pasta dish with tomato sauce and spicy sausage. The sauce was very different from any I had had before, but it was delicious. For the main course Adam had prime rib, while I had Veal Scaloppini. For dessert we had an odd, but good concoction of thin wafers of chocolate layered with a frozen citrus mousse. Also on the plate were an unbelievably tart orange sorbet and two tiny slices of something that tasted like French toast, but was supposed to be gingerbread. Yummy!
We headed to bed watching Canadian TV -- mostly a hockey game.