We had an early start this morning in order to catch the Amtrak Cascades train at 7:45. We caught a cab from the Hotel Monaco to the Amtrak station near Pioneer Square. We picked up our tickets from the computer kiosk and checked our baggage. Luckily we had sprung for the business class seats, and had our own check in line which was empty, rather than the long wait for everyone else. We were assigned 6A and B, and had just a short wait before boarding the train. Business class was well worth the extra 12 bucks per ticket. We had nice roomy seats, and a three dollar coupon for the dining car. I was pretty hungry, so I hit the "Bistro," which considering my choice of an egg and cheese bagel was heated up in the microwave, was really quite good. Adam had a cinnamon roll and milk.
The train ride was very peaceful, with amazing scenery of the coastline. The total ride was right around four hours. The neatest part was seeing a flock bald eagles fishing on the marsh land areas along the train tracks. There were about 40 of them. I had never seen one in the wild, so to see them just flying around, sitting on the beach, etc, was absolutely amazing.
We arrived in Vancouver just after noon, picked up our luggage and hopped in a cab to go to the pier. Adam suggested waiting for the next cab, as our seemed a little sketchy as he pulled up, but we went against our better judgment and got in anyway. He was about the craziest cab driver I have ever encountered. Adam says he was just one of those people who will say anything to get a reaction. I was a little scared! But we made it to the pier, with ourselves and luggage intact, and got in the first of many lines to board the ship.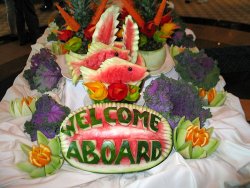 After luggage, check-in, customs and the "security photo" (about 35 minutes total), we were finally aboard. We headed straight to our room, 3065. It was an interior cabin on the third deck. Compared to an interior cabin on the Disney Wonder, it was a bit smaller. On Disney, there were some small details that were nice: slightly bigger cabin, a curtain that stretched between the bed and the living spaces, an actual clock and more shelves in the bathroom. However, it was quite adequate for us, and seemed very comfortable. We dropped off our carry-ons and headed right up to lunch at the Windjammer buffet. It was pretty good, and was all dolled up for the departure lunch. One plus was having large platters instead of normal plates. We finished up, returned to the room and met our stateroom attendant. He told us about all the features of the cabin, and about the muster drill. Our luggage got dropped off and I took a nap. Luckily (or unluckily) our muster drill got pushed back about 45 minutes, as some passengers were late getting to the ship. That let me nap a little longer!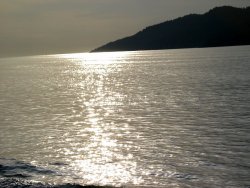 The muster drill went fine, and we had some time to unpack and explore the ship a bit before dinner at 8:30. We saw the departure at 6 pm, and stayed outside until the ship made it out to openish water. We got dressed for dinner and headed up to the dining room. Dinner was pretty good. We were at a large table with a couple from Minnesota and a Spanish speaking family. Our waiter, Pleman, was from Lithuania, and was very attentive, although spoke little too quiet. The food was good as well. I had cod and mashed potatoes, while Adam had the prime rib and some very spicy horseradish.
I was so tired after dinner I went straight to bed, while Adam wandered around for a little while before hitting the hay.