I woke up on the early side (7 am) and read for a little while before hunger got the best of me, and I ventured up to the 11th deck for the Windjammer breakfast buffet. One of the problems with breakfast is that you're never quite sure what direction you want to go: savory vs. sweet, healthy vs. bacon, big vs. small, etc. It took some time before I settled on French toast and fruit. It would have been a good balance, except then I added tater tots and sausage, which tipped the scales in the "not good for you" range. I found a table towards the back in the outdoors, but not open wind seating area. It was right up against the rail, so it had a nice view. Unfortunately, I hadn't realized that someone else had already claimed the table, but she was nice enough to share.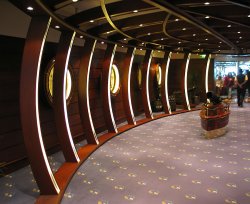 After reading some and enjoying the scenery, I headed back down to the cabin to see what Adam was up too. Well, he was still sleeping (it was still pretty early, especially for him). I continued to read on the couch, but started to get a little sleepy, so I crawled back into bed for a nap. I think I may be the only person in the world who naps at 9 in the morning. When I finally woke back up, it was nearly 11, and Adam was also slowly waking up. We got ready for the day, and emerged into the ship. Adam needed breakfast, and it was approximately lunch time for me, so we went back up to Windjammer. Lunch was pretty standard, I think I wasn't very hungry from breakfast, so while I got some food, I didn't eat very much of it. Adam sampled the Mexican bar and said it was pretty good.
There were still some areas of the ship we hadn't seen yet, so we went exploring. My main goal was to find the "self-leveling" pool tables, because that seemed pretty cool. We found them and loads of bar/lounge space on the sixth floor. It had a very clubby atmosphere, but unfortunately allowed smoking, so I decided not to spend too much time there. We found a quiet spot on the sixth floor, in the "Champagne Bar" to sit and read and watch the waves. It was in the center of the ship, and had some very nice chairs with big windows, so we settled in to read for awhile. I also grabbed a very tasty mudslide to drink.
There was a wine tasting seminar in the dining room at 3 that sounded fun, so I went there while Adam went to the back of the ship to read, as there was a very loud art auction happening near the Champagne Bar. The seminar was fun. We tasted 6 different wines, three in each color. I am much more a white wine person, and it's easier for me to taste the differences in them. The reds all sort of tasted the same. My favorite was a Riesling from Washington, which should be no surprise as it's both sweet and fruity. There was a cheese plate and crackers to snack on, and I had fun tasting the wines both before and after having a bit of cheese. It makes a big difference!
I went back down to the room to do some work on this trip report (I had napped in the morning, which is my preferred time to write!) Adam arrived shortly after, and we both wanted a little snack, so we went up to the Seaview Café on deck 12, for some chicken fingers. They were good, but a little unnecessary for me, as I had just had the big cheese plate. Oh well, you're on a cruise right! We took the stairs down to work it off a little.
Back at the room, we hung out and watched some TV. I somehow took another short cat nap. I swear it was the combination of the mudslide and wine that put me out! A short story from the elevator: A group of men and women in their 60's or so got on the elevator with us, mid-conversation. One of the women said: "I would never take a nap on a cruise!" Adam poked me, because at that point, in 1 and a half days I had taken 4 naps.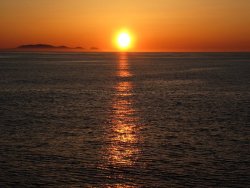 We had dinner reservations at 7 in the Chops Grille, an alternative restaurant that has a $20 surcharge, but gets you slightly better food, and your own table. It was formal night for the rest of the boat, and we didn't really want to get all dolled up, so we scheduled the "smart casual" Chops to coincide. Chops was a little crowded when we arrived, and all of the tables along the window were full, but we got a very comfy booth with a nice view, so that was okay. The menu is much like a Ruth's Chris or Morton's, heavy on the steak with family style sides. The food was very, very good. I was not super hungry after my day of doing nothing but eating and sleeping, so I leaned toward the slightly lighter choices of Caesar salad and the small filet mignon. Adam had the crab cakes and the prime rib. We also shared a small shrimp cocktail, mashed potatoes and steamed asparagus. It was all very delicious. The service was top notch as well. By the time our entrees came around, there were only 2 other tables occupied, so we chatted with our waiter and the restaurant manager who was Turkish quite a bit, which was fun. For dessert, I took the recommendation of the waiter and ordered the brioche bread pudding. Adam had the raspberry cheesecake. Neither of us got very far in the dessert, but both were delicious.
We wandered the ship for awhile, and I headed down to bed, while Adam took pictures of the sunset (at 9:45 at night). I watched the TV channel that had a camera attached to the front to the ship. I couldn't believe how light it was at 10 at night!