We arrived in Skagway fairly early in the morning, around 6:30. We were not awake when we docked, but turning on the bridge cam at about 8, we saw we were docked at the pier. After getting up for breakfast and preparing ourselves for the day (will it be sunny and hot, or windy and cold, or some combination thereof?) which included a change of clothes, we went out into Skagway to explore the town.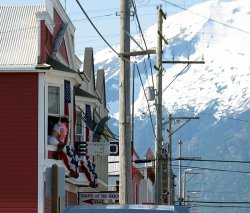 The main touristy area was about a 6 minute walk from the dock, through a railroad loading area. Skagway is most famous for being the entry point for the Klondike gold rush. While no gold was ever found in the town, tens of thousands of people started the long and treacherous journey into the Klondike from Skagway. As Canada required a years worth of supplies to be brought with you before entering the country, Skagway was a hopping place for merchants. Eventually they built a railroad up the main pass into the Klondike that allowed for transport of people, but also various metals mined in Canada back out to Skagway for shipment by boat out of the port. However, in the mid 1900's, Skagway basically died due to lack of economy, and it wasn't until the government bought each of the remaining buildings as part of the National park service that Skagway was able to have any residents. As it is, a town whose population was close to 15,000 in the late 1800's, is now down to about 800.
The touristy area is comprised of these restored buildings that are rent from the National Parks service, so they are pretty well maintained. There was a lot of painting and construction going on, trying to prepare for the busy tourist season. They hadn't quite finished before the first cruise ships (like ours) came in, but it looked like they were close. We did a bit of shopping before heading back to the ship for lunch.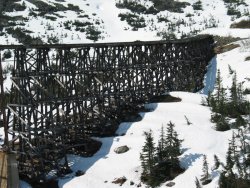 We were to meet our tour contact, Sockeye Cycling, at about 12:20 on the pier. They had just pulled up as we walked out. We had to sign a waiver saying that if we died, we couldn't sue the company. Our excursion included a train ride on the White Pass train into B.C., and then a 15 mile bike ride down the mountain, nearly all downhill. I was a bit nervous, as I am not a fan of heading down a steep highway, edged by cliffs and full of huge touring busses, all going at great speeds. The train ride up did little to improve my confidence. The scenery was amazing, and the changes in environment (from coastal rainforest, to mountainous pine trees and waterfalls, with rapids, to a snowy winter wonderland) were pretty incredible. However, the higher we went, the more nervous I became. We had gone from sea level to about 3900 feet in about 27 miles. The highway we would come down on was more of a straight shot, and covered about the same elevation in 15 miles or so.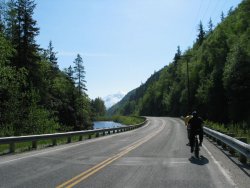 When we arrived in Fraiser, BC, after the customs agents came through the train, our tour guides met up with us and drove us to the launch point. They gave us some history of the area, as well as some of the geological highlights. Eventually we came to a turn out to get a bike and all of the equipment for our ride. We began with a 10 minute initial ride to get a feel for it. The van would be following in case any of us changed our minds. I did okay on the first part, the speed was not too big of an issue, however, it occurred to me that I didn't think I could make it the whole way down, but for a reason I hadn't thought of. I still have some lingering issues from a wrist injury and subsequent surgeries from a few years back. I had to buy a new bike, because in a traditional mountain bike, you put a lot of weight and strain on your wrists as you are higher then the handlebars. On my new bike, I sit a little lower and reach up for the handles. On this trip, we were riding traditional mountain bikes, and the constant downward pressure, combined with the constant need to brake, was killing my wrist, and I knew I needed to stop, or I might not make it down.
It wasn't a big deal though, I just hopped in the van that was leaving the group and the driver took me back down to Skagway. Adam and the rest of the bikers came about 45 minutes later, which gave me some more time to see other stores and people watch. Adam said he had a great time and they stopped 4 or 5 times for pictures etc. With a couple more stops for gifts, we headed back to the ship for a snack and a nap.
After missing two days in the dining room, we thought it would be good to make it back. It was a fun night, we were all able to chat about what we had done that day, and our waiter gave us puzzles made of toothpicks to figure out between courses. Dinner itself was quite good as well, although some people ordered the Chicken Kiev, and the waiter insisted on cutting it up for them so they wouldn't splash themselves with hot butter…it was pretty funny. After dinner we walked around a bit and grabbed some hot chocolate before heading back to the stateroom. There was an X-Files marathon on, so we watched two episodes before calling it a night.