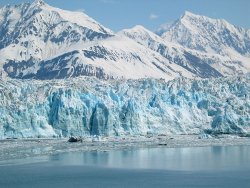 Today was a day at sea, including a four hour visit to the Hubbard Glacier. We weren't set to arrive at the glacier until after 11, so we just had a leisurely morning with breakfast. After we finished, we hopped up to the sixth deck, where the heli-pad is, to take pictures and video of our approach. It was kind of weird to see the drastic change in environment. We were between two ranges of snow capped mountains that were full of trees. At the end of each range, where they curved to meet and form the bay, it immediately was huge mountains absolutely covered in snow. It wasn't until we were a bit closer that we realized that we were looking at the glacier. Because we were moving, it was a bit chilly, but the sun was out and shining. In protected areas, it was quite warm.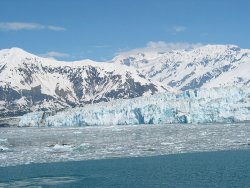 As we pulled into the bay and began inching our way through the ice floats, I went inside to watch from the Champagne bar, where there are large picture windows, and it was on the starboard side, so it was a slightly better view. I watched from there for some time. I saw one of the large "cathedral" cavings, but because I was inside, I didn't hear the noise. Once we had pulled in as close at we could, I went upstairs to enjoy the sounds and the view. The captain was able to turn the ship 360 degrees, so everyone had a chance. Adam took loads of video and a few pictures, but unfortunately, none of the large cavings happened again. There were plenty of smaller ones, which were still pretty cool.
Around 2 or so, we headed up to lunch at the Windjammer, so we could watch as we pulled away. Another pretty standard, but tasty buffet lunch was enjoyed, but the view could not be beat from anywhere on the ship.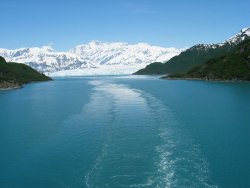 We spent the rest of the day wondering around the shops and generally keeping to ourselves. I knew I needed a nap, so we went to the stateroom to watch a little TV and nap. It was formal night again, so we allowed a bit of time to get ready. I was planning on wearing a tank top shirt, but I didn't have anything warm to wear with it in the dining room. Luckily, I had seen $10 "pashminas" in one of the stores, so I went down to get one.
I was glad I did, as the dining room seemed a bit cold. Dinner was fun as always. We ate a ton of food, including delicious roasted garlic soup. It was Italian night, so while we ate our entrees, the entire serving staff paraded around the room, ending up on the front staircase. They sang "Oh Sole Mio," which was pretty entertaining. Our waiter gave us a few more puzzles, and a magic trick that involved grapes and paper cups. We were again the last table out of the dining room -- dinner takes us almost 2.5 hours! But we have so much fun with our waiter, it's hard to leave any earlier. We eventually got back to the room for more X-Files and bed time.