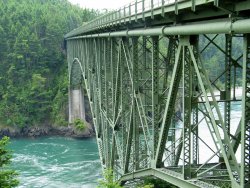 It was a little sad, waking up on the last day of the trip. The breakfast provided by the hotel helped a little bit. It was a continental breakfast with homemade scones, granola, juice and fruit. It was delicious and was clearly fresh local ingredients. We were advised to drop the car off in the ferry line more than two hours before the ferry was to leave to ensure a spot. I went and dropped of the car, and walked the two blocks back to the hotel to relax. We hung out, enjoying the view before checking out and walking back to the car.
It was a rather uneventful ferry trip back to Anacortes. We drove around the town for awhile, and were able to find Adam's grandmother's old house. We also visited Deception Pass before heading back out to I-5 and eventually Arby's for a quick lunch.
The drive back to the airport was a bit trafficy, especially through the heart of Seattle, but we were able to return the car and make it to the gate with plenty of time to spare. The flight went quickly, and soon we were on the ground in San Jose, where it had finally stopped raining after two weeks of bad weather.